Our Team Is Backed by Over 65 Years of Experience
Personal injuries happen when least expected, placing a large burden on you and your family. When you've been injured in a serious, life-altering accident, you may need significant financial resources to cover your medical bills and find a new path forward. At Caputo & Van Der Walde LLP, our personal injury lawyers have over 65 years of combined experience helping Campbell injury victims recover fair compensation from negligent parties.
By limiting our practice exclusively to personal injury, we're able to dedicate all our time, attention, and resources for injury victims and their families—and over the years, this approach has earned us many awards and accolades from organizations like the Consumer Attorneys of California (CAOC), the Santa Clara County Trial Lawyers Association, Martindale Hubbell®, Super Lawyers®, the US House of Representatives, the California State Assembly, the City of San Jose and more. Whether you need help filing a car accident claim or pursuing a defective product lawsuit, it's our ultimate goal to help you heal.
To schedule a free case review, contact our Campbell personal injury attorneys at (800) 900-0863.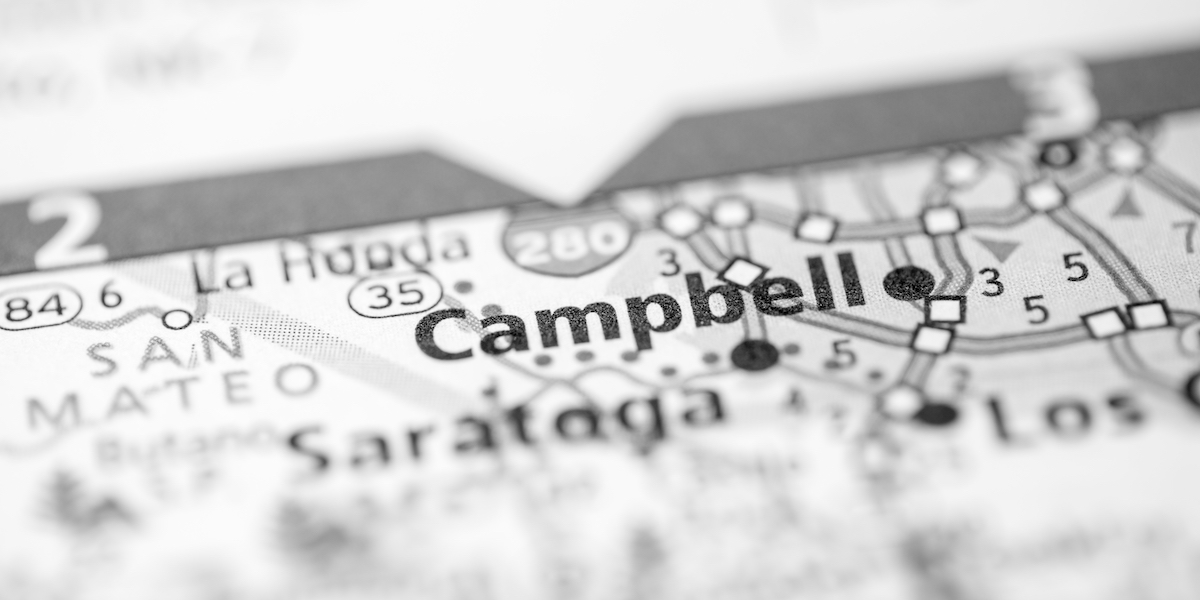 AN OVERVIEW OF PERSONAL INJURY CLAIMS
The more information that you know about a personal injury claim before you start your own, the more comfortable and confident you can feel early on in this process. For this reason, we want to give you an overview of important personal injury claim concepts now. Of course, if you have any other questions about the basics of a claim after reviewing this quick list, please call (800) 900-0863 to speak with a member of Caputo & Van Der Walde LLP.
Important Terminology in a Personal Injury Claim
Claimant: The claimant is the person who has been injured or wronged and wants to use legal action to seek a remedy. In a personal injury claim, the remedy will specifically be monetary compensation.
Defendant: The defendant in a personal injury claim is the party that has been accused of harming the claimant, and who will be expected to provide the remedy to the claimant depending on how the case resolves.
Negligence: In legal terms, negligence occurs when someone acts in a way that another reasonable person would not have acted in the same situation. For example, a person who is speeding and fails to stop in time thereby crashing into another car is negligent because a reasonable person would not drive his or her car in that manner.
Liability: Liability is the legal form of "fault" or "blame" for an accident or incident. The claimant will try to prove that the defendant is liable for the harm that has happened, and, therefore, should be accountable for their losses or damages.
Damages: Damages in a personal injury claim is a type of harm or loss that the claimant has suffered. For example, a claimant can seek "economic" damages that pay for such things as past and future medical costs and lost wages. "Non-economic" damages relate to losses for "human loss" like pain, suffering, mental and emotional distress, and hardship.
Statute of limitations: A statute of limitations is the amount of time that a claimant has to file a claim against a defendant for an accident or loss. In California, the standard statute of limitations for personal injury claims is two years beginning on the date of the accident. When a statute of limitations expires, the court will most likely reject any claim filed after.
What is the Personal Injury Claims Process?
The personal injury claims process in California can look a bit different from one case to the next because every case is unique. However, the overall process to start and pursue a compensation claim will look relatively similar in all cases.
The personal injury claims process will typically involve these steps in some form:
Review the basics of your case with a personal injury attorney who can determine if you have the right to pursue a claim or lawsuit.
Wait until your doctors have determined, based on a reasonable degree of medical probability (i.e., more likely than not), your diagnosis and prognosis.
Assimilate all of your medical records, reports, billings, and associated costs, such as wage loss information.
Calculate how much compensation the liable party or defendant owes you for the accident or injury that they caused.
Send a demand letter to the insurance company to give them a chance to provide compensation without involving the legal system.
Prepare a complaint or claim to file in the right court if the defendant does not want to answer the demand letter in your favor, or conveys an unrealistic offer.
File the complaint with the court to officially begin the legal process of demanding compensation from the defendant.
Attempt to negotiate a settlement out of court, which can be done confidentially; settlement negotiations can be attempted any number of times and at any point in this overall process.
Prepare for litigation by reviewing evidence, finding more evidence through discovery, and other typical trial preparation steps that an attorney can handle.
Litigate in court if all negotiation or mediation efforts fail to reach a fair conclusion.
WHAT IS THE ROLE OF AN INJURY LAWYER?
A Campbell personal injury attorney from Caputo & Van Der Walde LLP can help you in many different ways. We are here to take care of the entire legal process on your behalf, so you don't have to feel overwhelmed by legalities and regulations. We are also here to provide moral support and put your worries at ease. We view our roles as personal injury lawyers as truly comprehensive in this way.
Types of Injury Claims We Can Help With
At Caputo & Van Der Walde LLP, our trial attorneys take pride in serving California residents with a winning combination of compassionate counsel and aggressive legal advocacy. We understand it can be daunting to bring a lawsuit against another party, especially when you are worried about covering medical expenses and lost wages. That's why our team works on a contingency fee basis: Unless we are able to successfully recover damages in your case, you will not have to pay us a fee.
Our firm has successfully handled cases including:
Dog bites and animal attacks
Construction accidents
Food poisoning
Toxic chemical exposure
Defective Products
Helping You Pursue Maximum Compensation
To file a personal injury claim, you must be able to show your accident was caused by the negligence, carelessness, or intentional wrongdoing of another person or group. You must also show that you suffered substantial financial and/or emotional losses as a result of the accident.
If you suspect that negligence or wrongdoing played a role in your accident, we invite you to contact our personal injury team as soon as possible. In the state of California, you only have two years to file most personal injury claims; in some instances, you only have six months. Beyond that point, it is very unlikely that you will be able to revisit the case later and get the compensation you deserve. We do not want to see you miss your chance to recover compensation.
Evidence in Personal Injury Claims
In order to prove that you weren't at fault, our law firm will employ a variety of strategies. This evidence is key to proving the other party is liable for your personal injury. Some types of evidence include:
Medical Bills
Medical records are essential evidence in personal injury cases. They can provide detailed information about the extent of your injuries, the treatments you've received, and the costs associated with your medical care. Medical records can also be used to demonstrate the long-term impact of your injuries, such as the need for ongoing medical treatment or a reduced quality of life.
Physical Evidence
Physical evidence refers to any tangible items that can be used to support a personal injury claim. This might include accident scene photographs, video footage, police reports, medical records, or expert reports. Physical evidence can help establish the severity of the injuries, the extent of property damage, or the conditions that led to the accident. For example, if you were injured in a car accident, physical evidence might include photographs of the damage to the vehicles, skid marks on the road, or debris from the accident scene.
Eyewitness Testimony
One of the most powerful types of evidence in a personal injury case is eyewitness testimony. Eyewitnesses saw the accident or injury occur and can provide an account of what happened. Their testimony can be used to establish the cause of the accident, who was at fault, and the severity of the injuries sustained. Eyewitness testimony can be particularly effective in cases where liability is disputed, or there are conflicting accounts of what happened.
Video Evidence
Video evidence can capture the accident as it happens, providing an accurate and reliable record of the events leading up to the injury. This can be especially useful in cases where there are conflicting accounts of what happened or liability is in dispute. Video footage can provide a clear and objective record of the accident, which can help establish liability and determine the cause of the injury.
Police Reports
Police reports can be an important source of evidence in a personal injury case. The police report will contain details of the accident, including the date and time, location, and names of those involved. It will also contain statements from the parties involved, witnesses, and the police officer who responded to the scene. The report can provide valuable information about the cause of the accident, the extent of the injuries sustained, and who was at fault.
In addition to these methods, your Campbell personal injury attorney will use valuable sources of evidence that can help establish liability and support the injured party's claim for compensation.
You could be owed significant compensation that helps pay for these losses and more:
Past and future medical treatment costs and hospitalization
Past and future lost wages and reduced income
Pain, suffering, and traumatization
Hardships caused by permanent disability
Reduced enjoyment of life
Shortened life expectancy
Lost income
Property damage
Committed and Trial-Tested Advocacy
Most personal injury claims can be settled out of court, but that doesn't mean you won't need a trial attorney by your side. Because some claims can require extended litigation, it's important to have counsel who truly cares about the outcome of your case and has the skills to represent you in a trial.
With nearly a century of collective experience and a passion for justice, our personal injury attorneys in Campbell, CA at Caputo & Van Der Walde LLP will see your case through to the final outcome, advocating for your needs every step of the way.
Get started with a free case evaluation today when you call us at (800) 900-0863. We serve personal injury victims in Campbell.
CAMPBELL PERSONAL INJURY FAQ
Can I represent myself in a personal injury case?
You can represent yourself in a personal injury case in California, but it is not recommended. Even defense firms will advise you to seek the help of a plaintiff injury lawyer. The law is highly technical and there could be a significant amount of compensation in question for your claim. Don't risk something so important by trying to handle the case alone.
What are the benefits of hiring a local Campbell injury lawyer?
In Campbell, personal injury cases will involve local courts, judges, insurance defense teams, etc. It makes sense to find a local attorney who is familiar with these local parties, too. A local lawyer will know what to expect as the case progresses, which can bring an immediate advantage.
How much does a personal injury lawyer cost?
Hiring a personal injury lawyer from Caputo & Van Der Walde LLP is always affordable because we offer contingency fee agreements. When working for contingency fees, you won't owe any attorney fees unless we end the case in your favor, such as by securing a settlement or award.
What is needed to prove negligence?
Strong evidence and arguments are usually required to prove negligence in a personal injury claim. Specifically, a plaintiff is expected to be able to prove his or her case by a preponderance of the evidence. Under this legal rule, the plaintiff must show that the defendant was "more likely than not" liable or mostly liable for the accident and damages.
Will my case go to court?
If a personal injury claim needs to be filed because a demand letter and subsequent negotiations proved unsuccessful, then the case will go to court. Whether a case goes to trial, though, is a different question. Most personal injury lawsuits can be resolved before a courtroom trial becomes necessary. Yet there is no way to guarantee that a case can avoid trial. In order to maximize your recovery pre-trial, our car accident lawyers prepare cases to go to trial – and the insurance companies know this.
How do I know what my case is worth?
Every personal injury case has a worth or value that is unique to it. For this reason, it is difficult to estimate how much a case is worth upfront. You should be wary of any law firm that promises that your case is worth a specific amount during an initial consultation, or that promises to win your case.
What information do I need for my consultation?
We encourage you to bring any relevant information and documents to your consultation that you think could be helpful. Medical records, crash reports, insurance information, police statements, photos, witness information, and so on can all help build your claim. With more information up front, we can better determine if your claim is legally sound and should be pursued.