When you get into a CRST truck accident, it is always beneficial to have a legal team by your side. If the CRST corporation's insurance company doesn't provide a fair settlement, you can pursue other means of receiving compensation. Your attorney can ensure that you receive maximum compensation for your injuries. As an accident victim, all of your damages that were the result of a neglectful truck driver can be included in your settlement.
For fair treatment and excellent representation, our team can help. Reach out to Caputo & Van Der Walde LLP now for a free consultation with a personal injury lawyer.
CRST International Commercial Truck Accidents
Truck accidents aren't very common – but when they occur, they can be very devastating. Fewer than 9% of vehicle-related deaths were caused by commercial truck drivers. Over 80% of those accidents were because of a neglectful commercial truck driver. Out of these accidents, 4% were due to truck driver fatigue. Intoxicated driving led to 0.06% of accidents caused by commercial vehicles.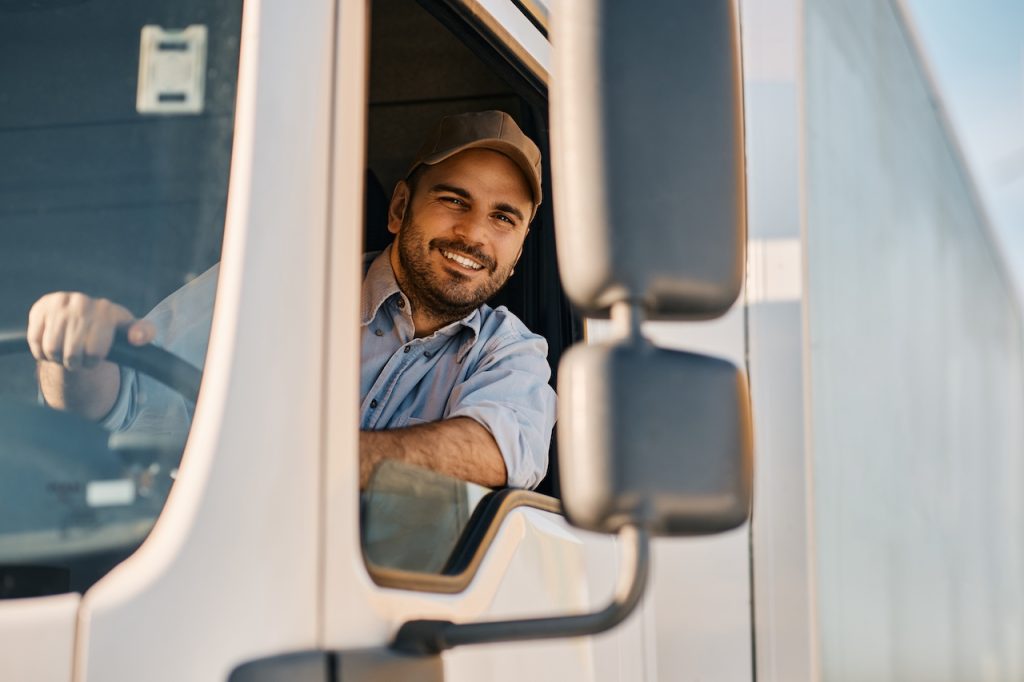 Most Common Injuries After CRST Commercial Truck Accidents
Delivery truck accidents can result in a wide range of injuries, from minor cuts and bruises to more serious injuries that require hospitalization. Here are some of the most common injuries that can occur after a delivery truck accident:
Sprain/Strain Injuries
Tearing of muscles, ligaments, and tendons are common injuries that can occur after a rear-end collision. They often result from the force of the collision causing a sudden back-and-forth movement of the head and neck. This can result in neck pain, stiffness, and headaches. This is often commonly referred to as whiplash.
Back Injuries
Back injuries, including herniated discs and spinal cord injuries, can occur if the impact of the accident is strong enough to jolt the spine. These injuries can result in chronic pain, mobility issues, and paralysis.
Head Injuries
Head injuries, including concussions and traumatic brain injuries (TBI), can occur if the head hits a hard surface during the accident. These injuries can result in headaches, dizziness, memory loss, and other cognitive impairments.
Broken Bones
Broken bones are a common injury after a delivery truck accident, particularly in the arms, legs, and ribs. These injuries can be painful and require lengthy recovery times.
Cuts and Bruises
Cuts and bruises can occur from broken glass, twisted metal, or other debris that is thrown around during the accident. While these injuries are usually minor, they can still require medical attention and may leave scars.
Emotional Trauma
Emotional trauma, such as post-traumatic stress disorder (PTSD), can occur after a delivery truck accident. This can result in anxiety, depression, and other mental health issues.
Wrongful Death
Catastrophic injuries caused by the trucking company driver could be the cause of wrongful death. Any wound rendered by the trucking company that resulted in a fatal injury would be considered a wrongful death.
Steps to Take After a CRST International Commercial Truck Accident
After you have been involved in a semi-truck accident, there are several steps you should take to ensure your safety and protect your legal rights to financial compensation. Here are some essential steps you should take after a truck accident:
Call 911
Call 911 to get the police on the scene immediately after a truck accident. The police will create an accident report that includes the cause of the accident. Request medical assistance if other drivers or passengers were injured.
Get Medical Treatment
Even if you don't feel injured, seek medical attention right away. Some injuries, such as whiplash or internal injuries, may not be apparent. Your medical bills will also be used as evidence in your truck accident settlement claim.
Collect Evidence And Photographs
Make sure that you snap images of the damage to your car and any other vehicles involved in the accident. Take pictures of the surrounding area. Get the contact information from the semi-truck driver, other drivers involved, and any eyewitnesses who saw the accident.
Notify Your Insurance Company For Your Truck Accident Claim
Call your insurance company as soon as possible after the accident. Provide them with all of the information you have collected, and be honest about what happened.
Work With a Personal Injury Attorney
Consult with one of our knowledgeable truck accident attorneys to help you navigate the legal process. They can advise you on your legal rights and help you obtain compensation for your injuries and any property damage.
Why Should Hire a CRST Personal Injury Attorney
Personal injury attorneys have a vast number of skills to help you win your personal injury claim against the trucking company. To get fully compensated for all of your damages, they will provide the following:
Legal Expertise
Truck accident lawyers have extensive knowledge of the laws and regulations surrounding truck accidents. They can help you understand your legal rights and determine the best course of action to take.
Investigation
A truck accident lawyer can conduct a thorough investigation of the accident. This can include gathering evidence, interviewing witnesses, and consulting with experts to determine liability and damages.
Negotiation
Your lawyer can negotiate with insurance companies and other parties on your behalf to obtain a fair settlement for your injuries and damages. They can also help you avoid common pitfalls and mistakes that can negatively impact your case.
Compensation for Damages
A truck accident lawyer can help you obtain compensation for a variety of damages, including hospital bills, medical expenses, lost wages, pain and suffering, and property damage. They can also help you obtain compensation for future damages, such as ongoing medical treatment or lost earning potential.
Representation in Court
If your case goes to court, your truck accident lawyer can provide representation and advocacy on your behalf. They can present evidence and arguments to the judge and jury and fight for your legal rights.
Types of Evidence Your Attorney May Use to Prove Fault
An attorney will use evidence and legal principles to determine who is at fault in an accident. Here are some of the factors that an attorney may consider when evaluating fault:
Police Reports
Your attorney will review the police report to determine what happened during the accident. The report may include witness statements, photographs, and other evidence that can help determine fault.
Eyewitness Testimony
An attorney may interview witnesses who were present at the scene of the accident. Witnesses can provide valuable information about what happened and help determine fault.
Experts
The attorney may consult with experts, such as accident reconstruction specialists and medical professionals.
Records
The attorney may review records related to the accident, such as the truck driver logbook, maintenance records, and inspection reports.
Evidence at the Scene
An attorney may visit the scene of the accident to gather additional evidence. They may take photographs, measurements, and video footage to help determine what happened.
Get your case reviewed by knowledgeable legal professionals who will protect your right to fair compensation. For more information about damages, a wrongful death, or other situation, contact Caputo and Van Der Walde LLP now for a free consultation.